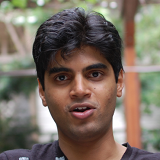 About Me
I was born in Bangalore, also known as the Garden City Silicon Valley of India. I obtained a Bachelor's degree from the Department of Computer Science and Engineering, PES Institute of Technology (VTU) in 2003 and am was working at a software company - NetScaler Citrix. I recently graduated with a Masters' Degree from the Department of CSE at The Ohio State University.
Me
aerosmith, beer, blue, books, cars, computers, cricket, debian, dilbert, economics, f1, fitness, football, gadgets, linux, IPv6, metal, metallica, movies, networks, open-source, PhDcomics, photography, pool, rock, rum, seinfeld, snooker, technology, tequila, ubuntu, vodka, www, wild-life, xkcd
Not Me
dogs, golf, m$ft, pink, ...1
1 And much more I'm sure, its a good sign that I don't remember them.